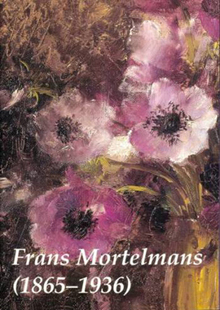 2002 OCTOBER
Catalogue : FRANS MORTELMANS 1865-1936
Edition : "Stichting Lodewijk Mortelmans VZW" - 2002 - Antwerpen
Commemoration of 50th anniversary of the death of Lodewijk Mortelmans
Written by Em. Prof. Dr. Guido Persoons, Emeritus Professor, Musicology, Catholic University of Leuven, President of the Royal Association for encouragement of Fine Arts, Antwerp. A first attempt to study the work of Frans Mortelmans was the organisation in october 2002 of an exposition with a limited collection of his works at the Royal Museum of Fine Arts.

54 pages containing full color pictures
ISBN 90-807425-1-1

Content :
• Preface by Dr. Paul Huvenne, General Director of the Royal Museum of Fine Arts, Antwerp
• Introduced by Norbert Hostyn, Curator of the Museum of Fine Arts, Ostend
• A Synthese 'De Vlaamse toondichter Lodewijk Mortelmans' (Trad. The Flemisch composer Lodewijk Mortelmans) by Jan De Wilde, Coordinator Study Centre of Flemisch Music
• Themes : perspective, waterpainting, drawing formations at the Academy in Berchem and at the Royal Academy for Fine Arts in Antwerp, art cercles, De Scalden, ...